The Universe Through the Eyes of Hubble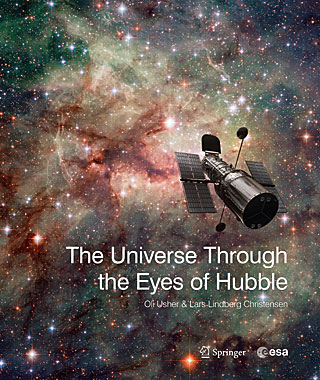 Designed with large images and distraction-free layouts to increase the impact of Hubble's imagery, this book gives the reader a guided tour of the cosmos through the eyes of the Hubble Space Telescope. Before Hubble was launched in 1990, no exoplanet had ever been observed, dark energy was unknown, the age of the universe was a mystery, and the most distant objects observed were just halfway back in time to the Big Bang. Hubble has been the centerpiece in a revolution in astronomy, as well as giving the public a visceral connection to the Universe through its stunning images.
Read more on: http://www.spacetelescope.org/eyes_of_hubble/
This book is not available for sale.
Credit:
About the Book
| | |
| --- | --- |
| Id: | hst_book_0004 |
| Release date: | 22 November 2013, 15:08 |
| Dimensions: | 30.5 cm (W) x 25 cm (H) x 2 cm (D) |
| Pages: | 176 |
| Cover: | Hardcover |
| Language: | English |
| ISBN: | 978-3-319-02722-7 |
Images

Fullsize Original

Large JPEG
4.4 MB

Screensize JPEG
683.2 KB
---
Also see our
---