Hubble 20th anniversary
Hubble's 20th Anniversary brings special opportunity for European science centres and planetariums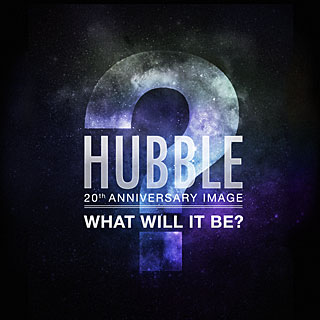 To celebrate the NASA/ESA Hubble Space Telescope's twenty incredible years in orbit, ESA/Hubble, in conjunction with our American partners, NASA and the Space Telescope Science Institute, will offer high quality large format prints of Hubble's anniversary image for display. The 2.38 metre x 1.5 metre image is a stunning portrait of a star-forming region taken by the observatorys new Wide Field Camera 3 (WFC3).
The rejuvenating Servicing Mission 4 in May 2009 left the telescope more capable than ever. Over the 13-day mission, astronauts repaired two instruments, replaced two others and also performed other necessary maintenance work on the veteran observatory.
The high quality of this image will make for a dramatic display and a fitting tribute to Hubble's twenty years in orbit. ESA has therefore decided to produce 100 laminated copies of the image, which can be rolled and shipped across Europe.
We invite all European-based science centres, museums, planetariums, nature centres and other informal education venues to apply to receive one of these images.
In order to submit this application, the applicant (on behalf of associated institution) must agree to the following terms of the Hubble 20th anniversary image unveiling:
Hold an image unveiling event in celebration of Hubble's 20th anniversary in orbit.
Identify a long-term plan for displaying the Hubble anniversary image (e.g. a permanent exhibit gallery).
Honour the ESA/NASA press embargo. Images may not be displayed prior to the ESA/NASA press release. The release is anticipated near the anniversary date, 24 April 2010.
If your institution is selected, you will receive free of charge:
the image;
press and VIP material for your unveiling event;
promotion of your exhibition on the spacetelescope.org website.
These 100 prints will be distributed, free of charge, to the venues that make the best case, including a complete plan for the proposed unveiling and exhibition of the panels and the anticipated number of visitors.
THIS PROMOTION IS NOW CLOSED. THANK YOU FOR YOUR INTEREST IN HUBBLE'S 20TH ANNIVERSARY.

Contact Colleen Sharkey (csharkey@eso.org) for further information.
Contacts
Colleen Sharkey
ESA/Hubble Public Information Officer, ESO education and Public Outreach Department
Lars Lindberg Christensen
Head of ESO education and Public Outreach Department