Hubble Servicing Mission 3A Update - Dec. 18-19 launch attempt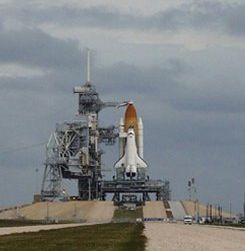 The Space Shuttle ready on the launch pad. Photo: NASA
Update for Saturday Dec. 18, 18:46 CET
Tonight's launch has been scrubbed! The reason is once again bad weather conditions around Kennedy Space Center. NASA officials will decide whether or not to proceed with the tanking around 16:00 CET tomorrow, Sunday. This will determine whether another attempt to launch will be made early Monday morning 01:50 CET. Launching Monday means that the fourth spacewalk will have to be cancelled (read more about the spacewalks on SM3A background). Currently weather forecasters predict up to 60% chances for acceptable weather conditions tomorrow.
Read more about the many different restrictions on weather conditions on this NASA Goddard Space flight Center page.
This page will be updated again tomorrow.
Update for Saturday Dec. 18, 18:33 CET
NASA has not yet decided whether to go ahead with the fuelling of the external tank. There is still time in the schedule to make tonight's launch, but the fuelling must begin by 19:00 according to the plan.
Update for Saturday Dec. 18, 17:40 CET
NASA managers have now decided that they - in case of another postponement - will attempt a launch on Monday morning with a launch window between 01:50 and 02:32 CET.
Update for Saturday Dec. 18, 17:09 CET
The weather forecast for tonight's launch at 02:21 CET does unfortunately not look very promising. There is a 70% risk for violations of some of the many weather criteria set by NASA for this ninth attempt to launch the Shuttle on Hubble Servicing Mission 3A. Again a low cloud cover and rain are the looming factors. One piece of good news is that NASA officials now are investigating whether the post-landing work may be shortened by one day. This would make a launch attempt Monday morning possible. NASA says that it will not launch the Shuttle on this mission if there are less that 8 days available for the work.