November - LRG-3-817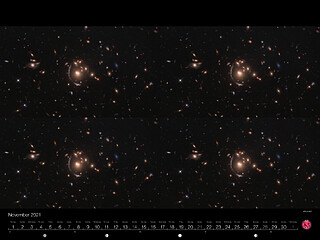 This Hubble image features the galaxy LRG-3-817, also known as SDSS J090122.37 + 181432.3. The galaxy's appearance is distorted by the effects of gravitational lensing and it is visible as a long arc to the left of the central galaxy cluster.
Credit:
ESA/Hubble & NASA, S. Allam et al.
About the Calendar
| | |
| --- | --- |
| Id: | cal202111 |
| Year: | 2021 |
| Month: | 11 |
Images

Fullsize Original

Large JPEG
331.8 KB

Medium JPEG
25.6 KB
---
File Formats

PDF
1.6 MB
Also see our
---