The Making of The Second Guide Star Catalog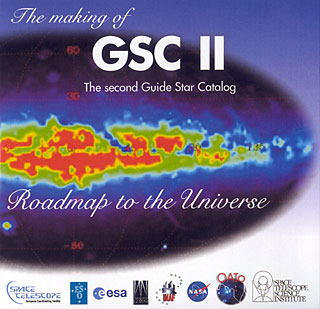 This is a project that attempts to explains the substance, uses and complex methods adopted to produce the GSC-II catalog via a multimedia interactive interface. The content ranges from pretty pictures, through simple graphical descriptions to complex professional articles. It is aimed at a technically sophisticated level though does not require previous knowledge of Astronomy.
The tour is distributed via a CD-ROM media as it is too large to be comfortably viewed over the web with today network speeds. If you wish a copy you can either send an address directly to us via our contacts page, or to Ricky Smart (email: smart@to.astro.it). May be shown in public. The website for this cd-rom is: http://www.to.astro.it/astrometry/GSCII/CD/intro.html".
This medium is not available for sale.
Credit:
The GSC II multimedia tour would not have been possible without the contributions and help of many individuals.
It is with great pleasure that we acknowledge these contributions. Specifically particular sections from Alessandro Spagna, Amy Rosenberg, Andrea Zacchei, Andreas Wicenec, Beatrice Bucciarelli, Charles Loomis, Conrad Sturch, Daniela Carollo, Fabrizia Guglielmetti, Giuseppe Massone, Gretchen Greene, Helmut Jenkner, Jane Morrison, Jorge Garcia, Lars Lindberg Christensen, Marica Sarasso, Renato Pannunzio, Roberto Mignani, Roberto Morbidelli, Ron Drimmel and Vicki Laidler.
The voice over was kindly provided by Ed Weibe and the video clips by Bryan Preston both with the kind support of Ian Griffin and the Office of Public Outreach at the Space Telescope Science Institute.
The production of the original was funded by the Istituto Nazionale di Astrofisica and was supported throughout by the Directors of the Osservatorio Astronomico di Torino Attilio Ferrari and Edoardo Trussoni.
The multimedia and graphical interface was designed and produced under the guidance of Tiziana Franconieri.
Many thanks for all your hard work, Ricky Smart, Multimedia Tour project leader, Brian McLean and Mario G. Lattanzi GSC II project Scientists.
About the Medium
| | |
| --- | --- |
| Id: | hst_media_0005 |
| Release date: | 4 October 2013, 17:12 |
| Dimensions: | 14 cm (W) x 12 cm (H) x 1 cm (D) |
Images

Fullsize Original

Large JPEG
302.5 KB
---
Files

ZIP File