Eyes on the Skies (Cardboard Cover, PAL/NTSC DVD)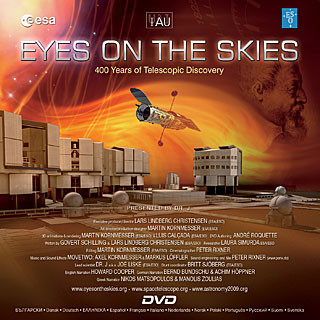 The Eyes on the Skies is a movie explores the many facets of the telescope — the historical development, the scientific importance, the technological breakthroughs, and also the people behind this ground-breaking invention, their triumphs and failures. It is presented by Dr. J, aka Dr. Joe Liske, a professional astronomer from the European Southern Observatory and host of the Hubblecast video podcast. The DVD runs for 60 minutes and contains subtitles in several languages: Bulgarian, Bosnian, Czech, German, Greek, English, Spanish, French, Hebrew, Icelandic, Italian, Latvian, Hungarian, Dutch, Polish, Portuguese, Brazilian Portuguese, Slovenian, Slovak, Finnish, Swahili.
Hybrid DVD (in both NTSC and PAL format) for viewing in most of the World. Region-free.
Parts of the Eyes on the Skies movie may be shown in connection with features on the International Year of Astronomy, but only if the Eyes on the Skies movie or book are mentioned visibly or audibly.
Read more about "Eyes on the Skies" on its dedicated web page: www.eyesontheskies.org
This medium is not available for sale.
Credit:
ESO, ESA/ST-ECF, IAU, IYA2009
About the Medium
| | |
| --- | --- |
| Id: | media_0014 |
| Release date: | 9 December 2010, 15:59 |
| Dimensions: | 12.5 cm (W) x 12.5 cm (H) |
Images

Fullsize Original

Large JPEG
719.2 KB
---