Download the ESA/ESO/NASA Photoshop FITS Liberator v2.2
There are two ways of installing the FITS Liberator, either manually or by using a setup program. In both cases you must be a local administrator to install the plug-in. By default all users on Windows XP and Mac OS X machines are local administrators. FITS Liberator is a freeware plug-in.
Automatic installation
---
Manual installation
The installation contains the following files. Feel free to install them manually, i.e. download the files and save them in the indicated directories (close Photoshop first).
Mac (Photoshop CS3 ONLY!)
Windows
You can sign up here on a mailing list to receive occasional news about the release and coming versions.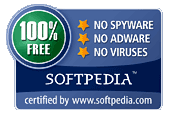 "The ESA/ESO/NASA Photoshop FITS Liberator" has been tested in the Softpedia labs using several industry-leading security solutions and found to be completely clean of adware/spyware components.