Simeis 147 (Sh2-240) Supernova remnant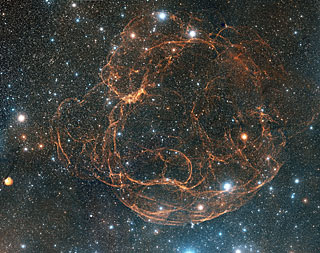 Here is a picture of Simeis 147 the large (3 degree in diameter) supernova remnant in Torus. I used images from the DSS2 in two bandwidth, Red and Blue. The Green layer were computer generated. The full size image is some 18000x14000 pixels, resolution of one arcsec per pixel. Here is just a very small preview.
This fits liberator image is not available for sale.
Credit:
Davide De Martin & the ESA/ESO/NASA Photoshop FITS Liberator
About the FITS Image
| | |
| --- | --- |
| Id: | davidedemartin_3 |
| Name: | Davide De Martin |
| City: | Venezia |
| Country: | Italy |
Images

Fullsize Original

Large JPEG
1.6 MB

Screensize JPEG
696.0 KB