Hubble spies possible brown dwarf around low-mass star
This NASA/ESA Hubble Space Telescope image shows one of the smallest objects ever seen around a normal star. Astronomers believe the object is a brown dwarf because it is 12 times more massive than Jupiter. The brown dwarf candidate, called CHXR 73 B, is the bright spot at lower right. It orbits a red dwarf star, dubbed CHXR 73, which is a third less massive than the Sun. At 2 million years old, the star is very young when compared with our middle-aged 4.6-billion-year-old Sun.
CHXR 73 B orbits 19.5 billion miles (about 31 billion kilometres) from its star, or roughly 200 times farther than Earth is from the Sun.
The star looks significantly larger than CHXR 73 B because it is much brighter than its companion. CHXR 73 B is 1/100 as bright as its star. The cross-shaped diffraction spikes around the star are artifacts produced within the telescope's optics. The star is 500 light-years away from Earth.
Hubble's Advanced Camera for Surveys snapped the image in near-infrared light on Feb. 10 and 15, 2005. The colour used in the image does not reflect the object's true colour.
Credit:
About the Image
---
About the Object
---
Image Formats

Fullsize Original

Large JPEG
50.7 KB

Screensize JPEG
139.5 KB
---
Print Layout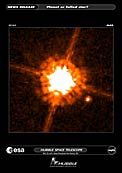 Fullsize Original
8.9 MB

Screensize JPEG
187.5 KB
---
Wallpapers
---
Colours & filters
Band
Wavelength
Telescope
Infrared
I
775 nm
Hubble Space Telescope
ACIS
Also see our
---